Laboratory
Economic and Social Demography
Detailed description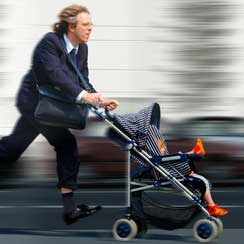 © Ursula Deja / Fotolia.de
The Laboratory of Economic and Social Demography is concerned with social science perspectives on demographic behaviors. A multidisciplinary perspective from sociology, demography, and economics is taken to understand the causes and consequences of low fertility, the dynamics of partnerships, and the transformation of the human life-cycle induced by longer life and postponed transition to adulthood. We explore new models and measures, pay particular attention to the quality of demographic data, and strive for a sound theoretical underpinning of our ideas.
Nearly half the world's population lives in countries with below-replacement fertility. A wide range of populations from Japan to Quebec, Italy, and to Germany are experiencing very low fertility, with period total fertility rates less than 1.5 children per woman. The most important long-run demographic (and in some cases societal) question for these countries is whether, and if so, under what circumstances fertility will increase again. The Laboratory thus studies the causes and consequences of low fertility. Among the research questions of interest are: What will happen to cohort fertility and the future of fertility postponement? Is there an "unmet need" for children and, if so, how can it be measured and what policy measures will help to meet it? To what extent are economic conditions and economic well-being related to fertility and family dynamics? What impact do social policies and labor-market institutions have on fertility behavior, parental employment and, more generally, the parental life-course? Among the consequences of low fertility that are of great interest are the prospects of those growing up in small cohorts and whether improved conditions will cause a reversal of fertility postponement.
Apart from understanding fertility and partnership dynamics, the Laboratory also takes a more general perspective on the human life-course. As years are added to human longevity, which stages of life will lengthen? So far, early adulthood has extended as marriage, parenthood, and career security are delayed, whereas retirement has arrived earlier, not later. To what extent are these different shifts related? What are the consequences of increasing longevity for the entire life-cycle, including childhood, human capital formation, labor-force participation, retirement, fertility, and union formation and dissolution? What can optimization models tell us? What are the effects of aggregate economic constraints on optimizing life-cycle behavior with intergenerational transfers? Under what circumstances does age at retirement fall as longevity increases? More generally, which life-cycle changes are proportional and which are non-proportional to longevity changes?
Contact
Head
Phone
+49 (0)381 2081-107
Deputy Head
Phone
+49 (0)381 2081-136
Secretary
Phone
+49 (0)381 2081-190
Socialize