Director Emeritus James W. Vaupel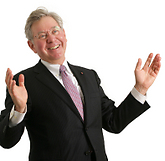 James W. Vaupel was appointed Founding Director of the MPIDR, Rostock, in 1996. As director, he determined the Institutes' scientific orientation in the decades to come, thus shaping demographic research in Germany and internationally and taking the Institute to become the largest independent demographic research center in Germany by far. Since January 2018 Vaupel is Director Emeritus of the MPIDR. In February 2018, Emilio Zagheni took over co-leadership of the Institute. James W. Vaupel now researches and teaches at the University of Southern Denmark, Odense. As Director Emeritus of the MPIDR, he completes some of the research projects he started at the Institute.
This article reviews his outstanding scientific career achievements and provides an overview of how the MPIDR under his leadership developed into one of the leading research institutions in demography. The article was written on a symposium held on the occasion of the Institute's 21st birthday.
More Information

James W. Vaupel's personal website
Jame's W. Vaupel Contact Data at the University of Odense
The future of Demography - More than a hundred population scientists met at the MPIDR to celebrate the 21st birthday of the institute. At the event, they bid farewell to founding director James Vaupel and discussed the future of their field. (December 14, 2017)
Socialize