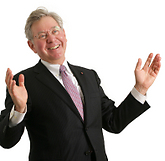 James W. Vaupel
Emeritus Group James W. Vaupel
Founding Director
Director Emeritus
James W. Vaupel is Founding Director of the MPIDR and was Head of the Laboratories of Survival and Longevity and of Evolutionary Biodemography. From January 2013 to December 2017 he also headed the Max-Planck Odense Center on the Biodemography of Aging. James W. Vaupel studied mathematical statistics and received his PhD in public policy at Harvard University. After serving as a professor at Duke University, the University of Minnesota, and the University of Southern Denmark, he became Founding Director of the MPIDR in 1996. James W. Vaupel is a leading scientist in the field of aging research, and has been instrumental in developing and advancing the idea of the plasticity of longevity. He pioneered research on the heterogeneity of mortality risks, and on the deceleration of death rates at the highest ages.
Since January 2018 James W. Vaupel is Director Emeritus of the MPIDR and is pursuing his research at the University of Southern Denmark, Odense. You can find his contact data here.
Full Curriculum Vitae
Portraits and Interviews
Positions and Memberships
Scientific Member of the Max Planck Society for the Advancement of Science

Member of the German Academy of Sciences Leopoldina

Regular Scientific Member of the U.S. National Academy of Sciences

Fellow of the American Academy of Arts and Sciences

Honorary Doctor of Civil Law, Newcastle University, United Kingdom
Projects (selected)
DATLife – The Demography of Aging across the Tree of Life – Database Project details
Projects
MPIDR Publications (recent)
MPIDR Publications (selected)
MPIDR Publications
The Max Planck Institute for Demographic Research is not responsible for the content of this page.
Socialize