Dossier
| September 30, 2019
30 Years Fall of the Wall
© kallejipp/photocase.com
The Berlin Wall fell 30 years ago. Life in East and West Germany has now converged in many areas, but differences remain. In this dossier we have put together the East-West issue addressed by researchers at the MPIDR.
© andrey-fo / photocase.com
How united is Germany?
How demography – or, more precisely, the mortality rate, the birth rate, or health – has developed in East and West Germany since the fall of the Berlin Wall is being studied by a number of researchers at the Max Planck Institute for Demographic Research (MPIDR) using various approaches. Here they have their say.
Overview press releases
08.10.2019 | PRESS RELEASE
Highest mortality risks for poor and unemployed
For the first time, researchers calculated reliably how mortality in Germany depends on education, income or employment status. According to this, unemployment doubles the risk to die. And the death risk for the most disadvantaged group, men in the East, is eight times as high as for the most advantaged group.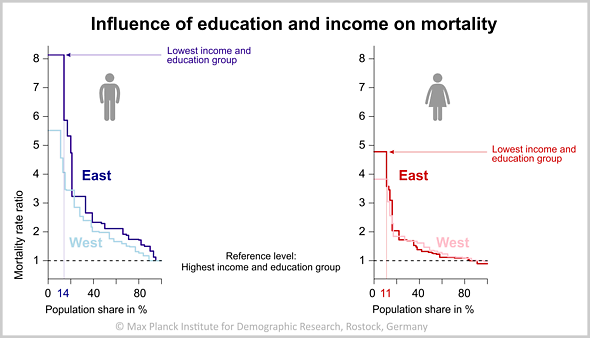 © MPIDR/Pavel Grigoriev
11.04.2019 | PRESS RELEASE
Lower Pension, Shorter Life
Income and social status have an increasing effect on life expectancy in Germany. On average, men with very low retirement pay die five years earlier than those who are much better off.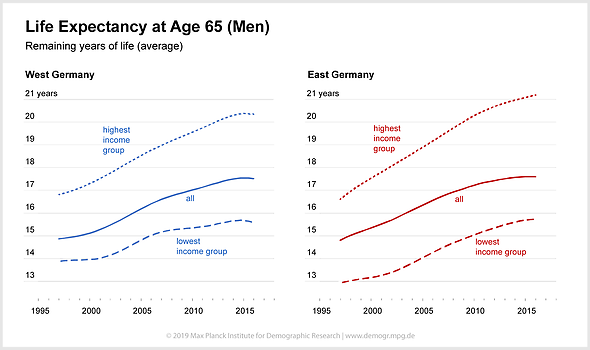 © MPIDR
08.01.2019 | PRESS RELEASE
Men no longer the "stronger" sex
After reunification, men in East and West Germany felt healthier than women, but now that feeling has been reversed. Today, men consider themselves less healthy than women – especially in the East.
26.04.2018 | PRESS RELEASE
Risk of death in East Germany started declining before German Reunification
German reunification was not the only factor responsible for the rapid increase in life expectancy in East Germany. The process had already started ten years before, during the GDR regime, when mortality started falling substantially.
10.05.2017 | PRESS RELEASE
Women in East Germany forecasted to be more likely to die from smoking than in West Germany
Due to a silent but dramatic increase in the number of young East German women smoking after reunification, their death rates are forecasted to exceed those in the West within the next few decades. The deadly trend is hidden beneath a currently favorable trend in life expectancy.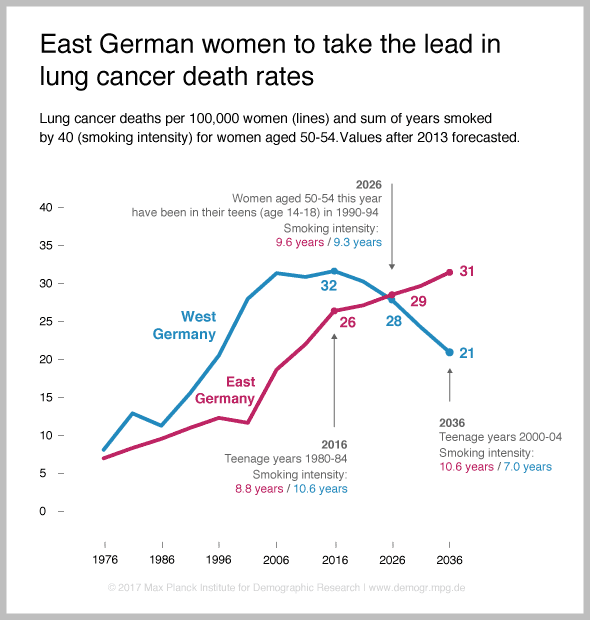 © MPIDR
20.12.2016 | PRESS RELEASE
Less children per man than per woman
Birthrates for men in Germany made available for the first time. Men on average have less children then women and have them later in life. Differences are especially strong in eastern Germany, where men set a new world record for low fertility.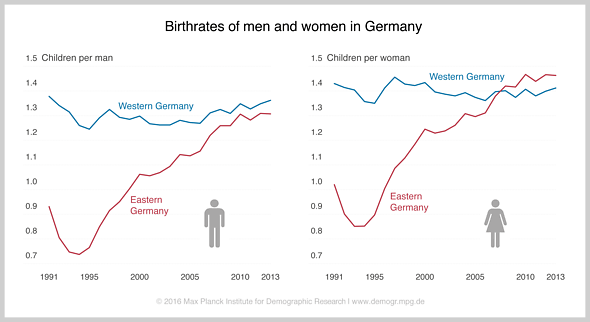 © MPIDR
26.10.2015 | NEWS
Childhood shapes attitude to motherhood
Women in Eastern Germany on average have children earlier than women in the old Länder. But what about Eastern German women who migrated to the west? MPIDR-researcher Anja Vatterrott has looked at this question to determine whether it is external conditions or rather socialization that influences the birth behavior.
10.02.2015 | NEWS
Elderly with higher education are less likely to use long-term care
In a new study, MPIDR-researcher Olga Grigorieva has shown that people with higher education are less likely to use long-term care than people with lower education.
MPIDR Experts
Pension in Germany
Phone
+49 (0)381 2081-221
Health Care
Phone
+49 (0)381 2081-220
Mortality
Phone
+49 (0)381 2081-255
Fertility
Phone
+49 (0)381 2081-179
Press and Public Relations
Phone
+49 (0)381 2081-143
Socialize