News
| April 11, 2017
Congratulations!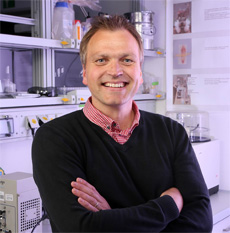 © MPG
On April 6, 2017, MPIDR researcher Ralf Schaible successfully completed his habilitation by lecturing and then taking questions on the topic of "Living, Aging and Dying: A View Across Species" at a colloquium held at the University of Rostock.
Ralf Schaible studied biology at the Universities of Tübingen and Rostock, and joined the MPIDR in 2006. The focus of his research is the biodemography of aging. Schaible currently oversees the work of the institute's biodemographic laboratory, where researchers study animals such as the Arctica islandica clam, the freshwater polyp hydra, and various species of ants.
To learn more about Ralf Schaible's research, please visit his webpage. A broad overview of his hydra research can be found here.
Congratulations, Dr. rer. nat. habil. Schaible!
Socialize