News
| March 15, 2019
Marcus Ebeling was awarded the Young Investigator Award of the German Demographic Association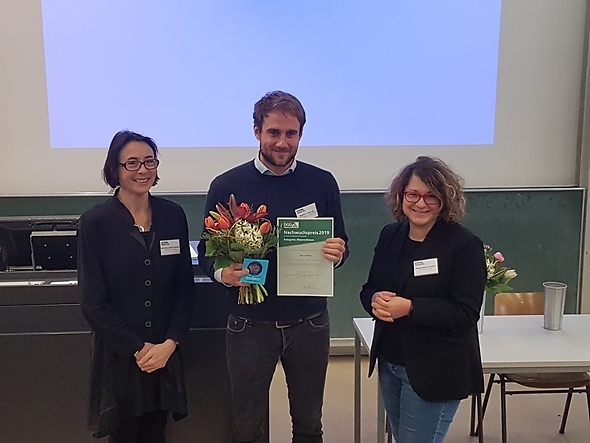 © Roland Rau
At this year's annual meeting of the German Society for Demography (DGD, Deutsche Gesellschaft für Demografie), which took place in Bamberg from March, 13 to 15, 2019, MPIDR researcher Marcus Ebeling was awarded the Young Investigator Award.
Marcus Ebeling is a scientist in the MPIDR working group Mathematical and Actuarial Demography and at the University of Rostock. He graduated summa cum laude in 2018. The prize was awarded to him for his dissertation, which focused on measuring mortality trends and dynamics in an era of continuous mortality decline. He published the results in high-level scientific journals such as Demography, Demographic Research, Population Studies or PLoSONE.
"The approach of Marcus Ebeling is characterized in particular by his analyzes dissecting the state of research of the issue at hand", the jury states. "He explains in detail where existing approaches are insufficient to adequately understand relevant developments. At these points, he then develops innovative approaches and analyzes, and presents them very precisely in the individual articles; but he also takes a comprehensive view of the context of the given research issue in his final summary. He shows that he is also able to take off the demographic glasses, and he brings in new perspectives from neighboring disciplines such as medicine or public health; the aim is to broaden the view on the relevant research topic in an interdisciplinary manner. At the same time, he does not shy away from questioning prominent research results – for example on the mortality plateau at very old ages – and from confronting them with his own findings."
The prize was awarded by the DGD on the occasion of its annual conference, which took place from March 13 to 15, 2019, in Bamberg. Considered for the award are doctoral theses related to demographic issues published in the year before the annual meeting. The prize is endowed with 1500 Euros.
The DGD is Germany's society of scientists interested in demographic issues. It is a politically independent association consisting of scientists as well as people and institutions with an interest in science working in the field of demography or neighboring disciplines.
Socialize