Jeanne Calment died August 4, 1997 at the age of 122. Not surprisingly, given she was recognized as the oldest living person in the world, news of her death received immediate attention from the media. And almost as quickly, speculation began as to who would replace her as Methuselah's ambassador on earth. In the absence of any competition in the matter, the Guinness Book of records was given the role of arbitrator for the world's current extreme survival. Claims from various regions of the world were thus sent to the Editors of the Guinness in London, vying for the top spot on their list of extreme longevity cases: Sarah Knauss (116 years old) from the US, Rodoma Dahmani (115 or 116 years old) from Algeria, Anitica Butariu (115 years old) from Romania, Maria do Carmo Geronimo (126 years old!) from Brazil, etc., joined soon to be 115 years old Chris Mortensen (see page 173) in the hunt for recognition and celebrity. Stating clearly that they considered only cases with documentary proof, the Guinness authorities then proclaimed on August 14, 1997 that the oldest living person in the world was Marie Louise Meilleur, a French-Canadian, born August 29, 1880 in Kamouraska (Québec) and living in a nursing home in Corbeil (Ontario).
Marie-Louise Meilleur benefitted from her French-Canadian Catholic background, since the documents validating her claim were essentially provided by parish registers, systematically available in Québec (see page 65). Her nationality and religion also allowed the author of this note to access information which completes to some extent what was sent to Guinness and which will be used here to present her case.
Biography of Marie Louise Meilleur (born Chassé)(1)
Marie Louise Chassé was born August 29, 1880 in Kamouraska, a small village on the south shore of the St-Lawrence River some 150 kilometers northeast of the city of Québec; she was baptized the next day and given the names Marie, which virtually all Catholic girls of Québec received, Louise, her godmother's name, and Fébronie, her mother's name, which she never used. She was the second child, but the oldest surviving, of Charles alias Pierre (or "Pitre") Chassé, a cobbler, and Fébronie Lévesque, who had married February 12, 1878 in Kamouraska. The couple had another six children after Marie Louise, two girls and four boys, making a total of eight; two of their children died very early (see family sheet).
Marie Louise Chassé was raised a devout Catholic, in accordance with the society she was born in. Parish records for St-Louis-de-Kamouraska show her being confirmed on June 19, 1889, "aged 8½", and she was from her teens a member of a brotherhood dedicated to prayer and the adoration of the Sacred Heart. She received her schooling in a convent.
Marie Louise was married in Kamouraska November 26, 1900, at age 20, to Étienne Leclerc, a widower, also from Kamouraska, who earned his living as a "navigator". The couple had six children: three daughters, of which two died within a few months of birth, followed by three boys (see family sheet). Étienne Leclerc then died prematurely in February 1911, apparently following a pneumonia, leaving his 30 year old widow with four young children, aged 9, 5, 3 and 11 months.
Around that same period, Marie Louise also lost both her parents, who died within eight months of each other, in June 1911 and February 1912. A year later, she decided to join her sister Albertine, who had opened a stopping place for loggers in the Ottawa valley, some 1 000 kilometers away at the frontier between Québec and Ontario, and needed help in the kitchen. She thus left Kamouraska with her two youngest children, leaving her two oldest to be raised by kin. Apparently, she returned but once in her life to her native village, in 1939, when her son Maurice arranged for her to meet "her grand-children of Kamouraska".
In 1915, Marie Louise married a lumberman, Hector Meilleur, a widower with four children. The couple lived in the same log house in Rapides-des-Joachims, a small village on the Québec side of the Ottawa river, from their marriage until Hector's death in 1972. Marie Louise then lived with her youngest daughter Rita Gutzmann for 16 years, before moving in April 1988 to a nursing home called Nipissing Manor, located in Corbeil, near North Bay, Ontario, where she died on April 16, 1998. Marie Louise had six children with her second husband, of which four were still alive on her 117th birthday; she has hundreds of descendants, covering five generations, from her two marriages.
Verification of Marie Louise Meilleur's age
In light of the biographical elements presented above, the following questions have to be answered positively to confirm that Marie Louise Meilleur reached the age of 117:
| | |
| --- | --- |
| - | Was the person who married Étienne Leclerc in 1900 the same person who was born August 29, 1880 in Kamouraska? |
| - | Was the person who married Hector Meilleur in 1915 the same person who had married Étienne Leclerc in 1900 in Kamouraska? |
| - | Was the person who died in a nursing home in Corbeil, Ontario, the person who had married Hector Meilleur in 1915? |
Étienne Leclerc and Marie Louise Chassé's marriage certificate, dated November 26, 1900 in the register of the parish of St-Louis-de-Kamouraska, states she is the minor daughter of Charles alias Pitre Chassé and Fébronie Lévesque; the father of the bride signed as her witness. Charles Chassé and Fébronie Lévesque are the godparents of a daughter of the couple, Marie Julienne, baptized November 19, 1902; the baptism certificate specifies that they are the grandparents of the child. Auguste and Albertine Chassé, "uncle and aunt of the child", are the godfather and godmother of Gabriel, another child of Étienne and Marie Louise, in 1908. Napoléon Chassé, "uncle of the child", is godfather to the couple's last child, Joseph Maurice Napoléon, in 1910. Only one couple named Charles or Pierre ("Pitre") Chassé and Fébronie Lévesque existed, and that is the couple who married in 1878 in Kamouraska. They had among their children a daughter, Albertine, and a son, Napoléon. Another of their sons, baptized "Joseph Louis Pierre" in 1886, used the name "Auguste", which was the name of his godfather, Auguste Leblanc. This is confirmed by the census returns of the family in 1891 and 1901, which match exactly their family sheet, if one accepts that Auguste is the child born in 1886. Marie Louise was enumerated with Charles Chassé and Fébronie Lévesque as their daughter in 1881, "aged less than 12 months", and in 1891, "aged 10 years", along with her brothers and sisters. She was enumerated in 1901 a few dwellings down from her parents, "born 29 August 1880, aged 20", with her husband Étienne Leclerc, both living with Étienne's parents. All details linking Marie Louise to her family of origin thus match (see family sheets pages 197 and 198).
The Chassé/Lévesque family offers no possibility of mistaken identification between siblings, and Marie Louise's age is corroborated by three successive censuses, the last one soon after she married. There is thus no doubt that the woman who married Étienne Leclerc in 1900 was indeed born in 1880. As to the answer to the other two questions, the documentary proof rests on Hector Meilleur and Marie Louise Chassé's marriage certificate registered in Deep River, Ontario (a parish a few kilometers away from Rapides-des-Joachims), where the bride is identified as "the widow of Étienne Leclerc"(2). But the document is corroborated by the multiple accounts of her kin.
Indeed, contrary to Jeanne Calment, for example, Marie Louise Meilleur has living children and numerous descendants, from both marriages, who testify either from their own direct knowledge, or from the words of their parents, to the family history of Marie Louise. In the present context, the identification of Marie Louise Meilleur, of Nipissing Manor, as the widow of Hector Meilleur, is unquestionable, and so are the basic facts of her widowhood in Kamouraska and her remarriage in the Ottawa valley, after migrating to join her sister. Although original documents relating to her life in Rapide-des-Joachims remain to be systematically gathered, there is no reason to doubt the authenticity of the claim that Marie Louise Meilleur is Marie Louise Chassé and that she reached the age of 117.
Her case is of great importance, beyond the fact that she did or did not become at one point the oldest person on earth. This accomplishment can never be established with absolute certainty, because the great majority of regions of the world escape the possibility of validating beyond any doubt cases of extreme longevity. But evaluating the maximum ages reached by human beings is of great importance for our understanding of the mechanisms of aging. Jeanne Calment's extraordinary longevity posed a serious problem to science, given the magnitude of the gap between her and the next proven extreme age (over seven years, which is extraordinary, akin to someone running today a 100 meters under 8 seconds for example). With Marie Louise Meilleur, who reached 117 years and 7 months of age, this gap has been reduced by nearly 30%, to the relief of many specialists in the field.
FAMILY SHEET OF MARIE LOUISE MEILLEUR'S PARENTS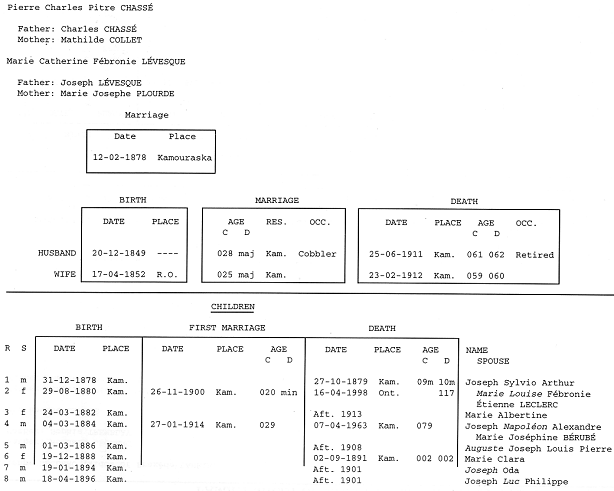 FAMILY SHEET OF MARIE LOUISE MEILLEUR'S FIRST MARRIAGE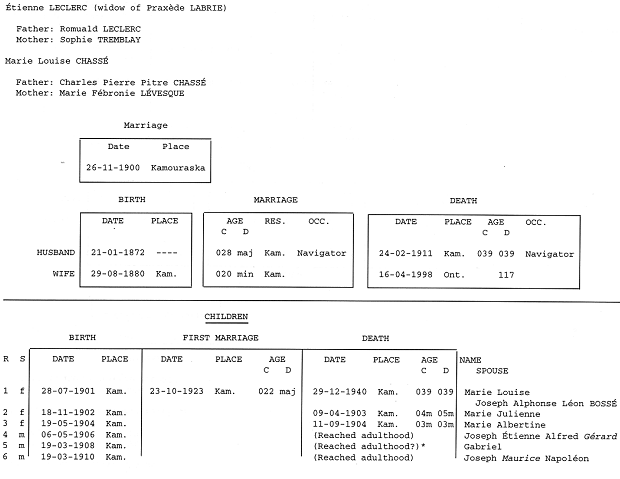 * The baptism clearly states that the child is a male. However, a newspaper article when Marie Louise turned 115 in 1995 cites "Gabriel Vaughan, 87, one of Meilleur's four surviving children, said her mother...". Apparently, Gabriel was a daughter.
---
Notes
1.
Biographical information on Marie Louise Meilleur was gathered from church records and census returns, from diverse newspaper and magazine accounts and from telephone conversations with her daughter, Rita Gutzman of Deep River, Ontario, and her grandson and his wife, Jean and Nicole Bossé, of Kamouraska, Québec.
2.
Marie Louise Meilleur's second marriage.
Hector MEILLEUR, b. 1880, widower of Marie Dufort, of Deux-Joachims.
M. October 25, 1915, Deep River (Ontario).
Marie Louise Chassé, widow of Étienne Leclerc, of Deux-Joachims.
Children: Ernest (b. 1916, living at Nipissing Manor in 1997), Pauline, Olive Therrien
(b. 1920, alive in 1997), Christy, Alfred, Rita Gutzman (b. May 12, 1925, alive in 1998).
[ Home | Contents | Return to previous page ]
---
Max-Planck-Gesellschaft 2003