Demografische Forschung aus Erster Hand
| October 7, 2019
How children influence the life expectancy of their parents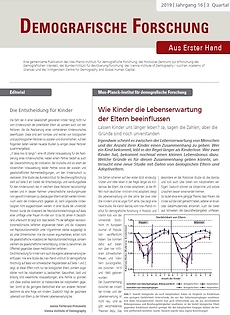 © MPIDR
The new issue (No. 3/2019) of Demografische Forschung Aus Erster Hand, the popular science newsletter with latest research results from demography, has been released.
The Newsletter is available in German only.
"Demografische Forschung Aus Erster Hand" is a joint publication of the Max Planck Institute for demographic Research (MPIDR), the Rostocker Zentrum zur Erforschung des Demografischen Wandels (RZ), the Vienna Institute of Demography (VID), the Wittgenstein Centre for Demography and Global Human Capital and the Federal Institute for Population Research (BiB).
The topics of the new issue are:
(Max Planck Institute for Demographic Research)
How children influence the life expectancy of their parents
Does having children make us live longer? The numbers say yes, but the reasons why are not yet understood
There somehow seems to be a link between people's life expectancy and their number of children: those who have children generally live longer than those who are childless. People who have two children even get a small additional longevity bonus. A study based on data from biological and adoptive parents explores the potential reasons why this association might exist.
(Bundesinstitut für Bevölkerungsforschung)
Between accident and life decision
A new model is set to improve our understanding of the development of the birth rate
When and how do couples decide to start a family? In seeking to understand what leads people to decide for or against having a child, researchers must rely on theoretical models. But such models often fail to take into account important factors like the influence of the partnership, the body, or unplanned events. A new model is expected to change that.
(Rostocker Zentrum zur Erforschung des Demografischen Wandels)
The desire to have children: Is it acceptable to help it along?
Migrants are often more open to using reproductive technologies than natives in Germany
People who are involuntarily childless can try to give nature a helping hand: the spectrum of methods of modern reproductive medicine ranges from hormone treatments and in vitro fertilization to sperm and egg donation to surrogate motherhood. A study from Rostock University investigates for the first time how widely accepted such methods are among native-born women and women from different migrant groups.
The newsletter is released four times a year and is available electronically and as a printed version and is free of charge.
All past issues are available online on the Newsletter website. On the website you also have the possibility to subscribe to the Newsletter to get informed about the release of the new issues or to receive the printed versions by mail.
Socialize
« Back To List of Demografische Forschung aus Erster Hand Releases