European Population Conference
| June 28, 2014
Awards for two MPIDR researchers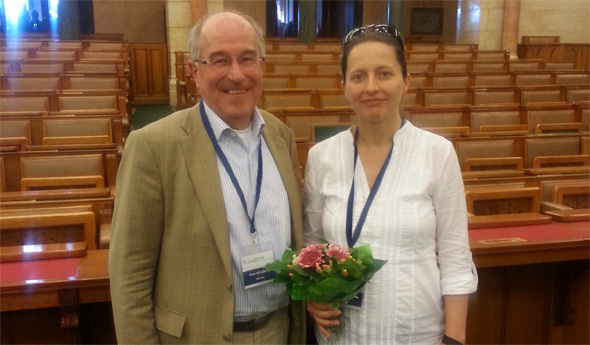 © MPIDR / Maria Bilo
Two MPIDR researchers, Annette Baudisch and Frans Willekens, have received awards at this year's European Population Conference.
Annette Baudisch was presented the "Trailblazer Award". The prize honors scientists for outstanding research achievements in the development and application of demographic analysis. The prize comes with a Euro 1000 cash benefit. Annette Baudisch heads the Max Planck Research Group Modeling the Evolution of Aging.
Frans Willekens received the "Award for Population Studies", which honors scientist for path-breaking research in population studies. The research of awardees must make significant contributions to gaining unique innovative insights into population dynamics and their consequences, such as expressed in a single or several ground-breaking publications, as well as work that spans a longer period on a given topic. The prize comes with a Euro 1000 cash benefit. Frans Willekens is Chief Research Coordinator at the MPIDR and heads the Research Group International Migration.
The two prizes were awarded by the European Association for Population Studies (EAPS) for the first time ever, as did the Dirk J. Van de Kaa Award. The awards were presented on 28th June 2014 at the closing ceremony of the European Population Conference in the Hungarian Parliament in Budapest.
Socialize