News
| October 16, 2014
Mikko Myrskylä is the new MPIDR director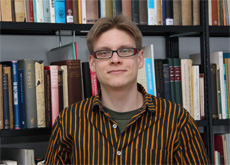 © MPIDR
Mikko Myrskylä is the new director of the Max Planck Institute for Demographic Research (MPIDR) in Rostock. He is heading the institute together with its founding director, James Vaupel.
After contracts were signed by Martin Stratmann, president of the Max Planck Society, Mikko Myrskylä is in charge as director with immediate effect.
"I am extremely excited to be back in Rostock," says Mikko Myrskylä, who had been working at the MPIDR for several years as head of the Max Planck Research Group "Life Course Dynamics and Demographic Change" before being appointed as a full professor of Demography at the London School of Economics and Political Science (LSE) in the Department of Social Policy.
"The MPIDR is my intellectual home"
"The MPIDR is my intellectual home. I got my training at the University of Pennsylvania but became a scientist in Rostock," says 36-year old Myrskylä. "I am committed to advancing research in social demography in Rostock in the coming decades."
Myrskylä, who holds a PhD in statistics as well as in demography, plans to expand MPIDR research both in the fields of mortality and fertility research, and plans to start recruiting promising scientists right away.
Myrskylä has a clear vision of the outlines of his research agenda. One important emphasis will be investigating whether extra years in human life expectancy are healthy, building on existing research by Myrskylä. According to him, "this is one of the most important questions in demography right now – we know that we are living longer than before, but to what extent that is good news depends on health." For fertility behavior he wants to focus in particular on the effects of postponed parenthood on child wellbeing and on the role of gender equality as a key factor in reversing the downward trend of fertility rates.
Myrskylä expresses his happiness to come back to work to Rostock, where two of his three children were born. "There is no doubt that the institute in Rostock is a global leader in demographic research," he says. "I am impressed by the commitment and loyalty of both scientists and staff to the MPIDR."
While there was quite some fluctuation among researchers, as is common in top international science, Myrskylä says he never experienced such a willingness to "give and give back" among researchers, regardless whether they have stayed long-term or only visited the MPIDR.
Training future generations of demographers in Rostock
The new director is looking forward to continuing and expanding the MPIDR's collaboration with universities, including with the London School of Economics; but in particular with the University of Rostock, with whom collaboration has proved to be "most fruitful" in both advancing demographic science as well as education. Jointly training future generations of demographers is among Myrskylä's top priorities.
The fact that his MPIDR director position is a long-term engagement is a chance that Myrskylä appreciates as unique. "This long-term perspective enables us to embark on digging into important and exciting fundamental questions, that would otherwise be hard to tackle," says the native-born Finn. It would also allow for investigation to take greater risks, which he regards a natural feature of exploration at the forefront of science typical of the institutes of the Max Planck Society (MPG). "I value the MPG and its research system for making this possible."
(For an overview of Myrskylä's latest research see his website at the London School of Economics.)
Socialize