News
| October 13, 2015
Mikko Myrskylä receives Jutikkala Prize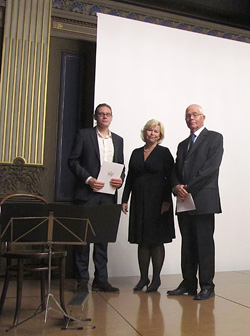 © Photo: Finnish Academy of Science and Letters
MPIDR director Mikko Myrskylä has been awarded the Jutikkala Prize by the Finnish Academy of Science and Letters on October 12, 2015. The prize is awarded to young researchers in the humanities under the age of 40, who already gained an international reputation in their research field. It brings a cash award of 15.000 euros and has been awarded this year for the fifth time.
Mikko Myrskylä is Executive Director of MPIDR since July 2015. He joined the MPIDR from the London School of Economics where he served as Professor of Demography, and where he continues to work as Research Professor and lead a research group funded by the European Research Council. Professor Myrskylä holds a PhD in Demography from the University of Pennsylvania, and a PhD in Statistics from the University of Helsinki. His work focuses on population health, analysis of contemporary fertility trends, and demographic forecasting.

The Finnish Academy of Science and Letters is the largest general scientific and academic society in Finland. It is a learned society founded in 1908 covering the full range of academic disciplines.
More Information
www.acadsci.fi - Website of the Finnish Academy of Sciences and Letters
Socialize