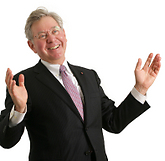 James W. Vaupel
Emeritus-Gruppe James W. Vaupel
Gründungsdirektor
Emeritus-Direktor
James W. Vaupel ist der Gründungsdirektor des MPIDR und bis Ende 2017 stand er den Arbeitsbereichen Altern und Langlebigkeit sowie Evolutionäre Biodemografie vor. Zwischen Januar 2013 und Dezember 2017 leitete er zudem das Max-Planck Odense Center zur Biodemografie des Alterns. James W. Vaupel studierte Mathematik und Statistik und promovierte in Politikwissenschaften in Harvard. Nach Professuren an der Duke University, der University of Minnesota und der Syddansk Universität in Odense, Dänemark, wurde er 1996 als Gründungsdirektor ans MPIDR berufen. James W. Vaupel ist einer der führenden Wissenschaftler in der Altersforschung und hat entscheidend die neue Theorie der "Plastizität des Alterns" mitentwickelt und geprägt. Darüber hinaus ist er Wegbereiter für die Forschung über die Heterogenität des Sterberisikos und die Zunahme der Überlebenswahrscheinlichkeit im hohen Alter.
Seit Januar 2018 ist James W. Vaupel Emeritus-Direktor am MPIDR und forscht und lehrt an der University of Southern Denmark, Odense. Seine Kontaktdaten finden Sie hier.
Vollständiger Lebenslauf
Portraits und Interviews
Funktionen und Mitgliedschaften
Wissenschaftliches Mitglied der Max-Planck-Gesellschaft

Mitglied der Nationalen Akademie der Wissenschaften Leopoldina

Vollmitglied der U.S. Amerikanischen National Academy of Sciences

Mitglied der American Academy of Arts and Sciences

Ehrendoktor für Zivilrecht, Newcastle University, Vereinigtes Königreich
Projekte (ausgewählte)
DATLife Datenbank: Demografie der Alterns über den Stammbaum des Lebens Details
Projekte
MPIDR-Publikationen (neueste)
MPIDR-Publikationen (ausgewählte)
MPIDR-Publikationen
Das Max-Planck-Institut für demografische Forschung ist nicht für die Inhalte dieser Seite verantwortlich.
Vernetzen